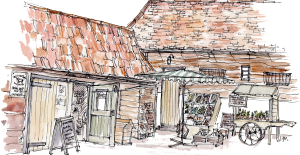 Our Farm Shop is located on our farm in the heart of the village of Isington. Visitors to the shop can enjoy a relaxed environment as they browse the wide selection of goods on sale including our own Mill Farm branded meat.
All of the meat that is sold under the Mill Farm branding has been produced here on the farm. If it is labelled as Mill Farm that is exactly where it has been produced . We have full traceability from the packet of meat, back to the animal on our farm and our comprehensive system of farm records. As the recent supermarket scandals have shown – traceability can be a very murky area and things are not always as they seem.
To complement our meat one can find organic vegetables as well as local cheeses, chutneys, apple juice, honey, artisan bread and ice cream all produced locally. We are keen to support other small, independent producers like us.
Meat Boxes
High quality boxes of Beef, Lamb and Pork are always available from our Farm Shop. Packed with a wide variety of different cuts, these boxes represent great value – ideal for stocking up the freezer. A range of different boxes are available, please contact us for  more information.
Coffee Shop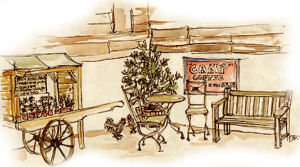 Enjoy a relaxing hot or cold drink and a tasty snack in our Farm Shop. Tables are available inside or out, and a wood burning stove will keep you snug and warm during colder spells.
Our wide selection of sustainable and organic farming magazines and books are available to browse should you fancy an intellectual diversion!
FARM SHOP & COFFEE SHOP OPENING HOURS:
Wednesday – Saturday 9am -5pm